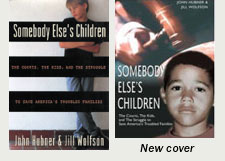 Chapter 1
Dependency Court, 8:30 a.m.
In the early 1950s, San Jose, California, at the bottom of San Francisco Bay, was an agricultural town with a population of 95,000 that was known as the prune capital of the country. As the electronics explosion hit in the 1960s and roared throughout the 1970s, San Jose, the largest city in Santa Clara County, grew faster than any city in the U.S. Spurred by the success of high-tech giants like IBM, Apple Computer, and Hewlett-Packard, the area continued to boom throughout the 1980s. Today, Santa Clara County has a population of 1.5 million, with a diverse ethnic mix, and is the largest county in Northern California. San Jose ranks as the eleventh largest city in the country, only a notch behind Detroit. The estimated population of 880,000 surpasses that of San Francisco by more than 100,000.
Now known as the capital of Silicon Valley, San Jose does not have San Francisco's startling beauty and world-class culture, its sense of fun and of the absurd. Like Phoenix or Houston, San Jose is a Sunbelt boomtown trying desperately to develop a character of its own. The city's redevelopment agency has poured hundreds of millions of dollars into revitalizing the downtown with some success, but San Jose remains at heart a small town. On the city map, eye-catching canary yellow blots mark the major shopping centers.
One of the few old buildings in San Jose and the most majestic structure downtown is the Santa Clara County Superior Court. Built in 1867 to lure the state legislature and lovingly restored in 1994, the courthouse faces the small park where Robert Kennedy gave his last speech in 1968. Its stone façade is painted a rich butterscotch and is set off by huge oak-framed windows and cream-colored Corinthian columns that soar to an ornate frieze high above the steep front steps. The courtrooms inside resemble opulent Victorian drawing rooms, a testament to the importance society places on the kind of law practiced here. There are elegant wainscoting, meticulously restored filigree, and impressive chandeliers. Judges' chambers have the leather furniture of private men's clubs.
This stately building is, of course, not where Judge Leonard P. Edwards, presiding judge of the Juvenile Court, reports to work each morning. Superior Court is reserved for high-profile and high-paying cases like homicide and tax evasion. Families and children are shuttled off to the Santa Clara County Dependency Court, a boxy two-story structure painted a flat, dreary oatmeal color. No towering columns guard the entrance to the building; over the door, there is a blue cloth awning that is beginning to fade in the intense sun. The name of the court is not chiseled in marble, as it is in the frieze of the Superior Court building; plain metal letters are riveted onto the plaster and announce not the name of the court but "Santa Clara County Court Annex."
The annex is the setting for dependency, or child welfare, proceedings. Here, judges and often lesser judicial officers make decisions that have unfathomable ramifications: First, they decide if children have been abused physically, sexually, or emotionally, and if so, they then determine the fate of these children. Are they to be separated from the only world they have ever known—their families—and placed into the impersonal world of foster care, maybe for the rest of their childhood? Are they to remain in the care of parents who, despite safeguards put into place, still have the potential of inflicting the most deadly wounds?
What dependency court lacks in stature, it makes up in emotional charge and danger. It is a rare social worker, attorney, or judge who does not have a story to tell about an obsessed mother who phones ten times a day to swear that she never beat her daughter or about anonymous death threats that arrive in the morning mail. A few years ago, a father who had lost custody of a child burst into the annex armed with a .357 magnum. He shot and wounded three bailiffs before he himself was wounded. In a wall near the courtrooms, there are still bullet-sized indentations that plaster did not completely cover up.
Episodes like that are one reason there is a line snaking up the block by the annex every weekday morning at 8:30. Parents with children squirming in their arms and children who dart in and out of the line, social workers who keep shifting the stacks of files in their arms, attorneys in dark suits who are buzzing through court reports, and an occasional judge wait while two deputy sheriffs rummage through purses, attaché cases, and diaper bags to check for weapons. Everyone must also pass through a metal detector that buzzes when someone forgets to cover a belt buckle or overlooks the stray dime wedged deep in a pocket.
By 9 a.m., the upstairs waiting area usually looks as if an invisible wave has come crashing down, leaving in its wake a multitude of tangled lives. The people here have all been struggling and living in chaos. What happens in court this day will go a long way toward determining what happens in the rest of their lives. On this particular morning, in the waiting area for Judge Edwards's Courtroom #42, a little boy and an elderly woman, obviously his grandmother, were sitting on the same padded chair and gently rocking each other. In the row behind them, a girl, maybe six, methodically ripped apart a magazine while her mother stared into space. Standing nearby, an attorney kept jabbing his index finger at the thick manila envelope he was carrying while a mother and a father, their eyes dull with sorrow, listened silently. Their son, a handsome ten-year-old, looked at the ceiling, as if none of this was happening.
In the back row sat a young woman in her midteens with eyes the color of opal and the chalky yet luminous skin that only Rossetti has captured in paint. Her chin-length hair was colored as black as shoe polish, as were her nails. To amuse herself, she was biting them off and making a game out of how close to the wall she could spit them. She radiated a hostility so visceral that, even in a crowded waiting room, the chairs around her remained empty. Her name was Jenny Langdon.
"How many times have I had to come to court? I don't know. Probably the first time was when my dad sliced up his arms with a razor. I was only like a little kid, like four, but I can still see all that blood squirting everywhere. He was crazy to do something like that. My mother was crazy, too. That's when the social workers first came for me.
"You know what they do when they come? The social workers beat around the bush with the little kids. They say: 'Oh, we are just going to take you away for a little while. You'll see mommy and daddy again, don't worry.' They lie to you so they can keep you. It really didn't dawn on me until I got older that I was never going to see mommy and daddy again."
Child welfare workers say that there is always at least one on their caseload at any particular time, a person they usually describe in medical terms: a headache, a pain in the neck, a heartbreaker, a walking wound. This person is either nowhere to be found or she is phoning five or ten times a day, crying, pleading, and threatening. She lies. She misses court appearances. The social worker bends over backward to get her a good foster home; she blows out of it in a week. Every encounter leaves the social worker emotionally drained and questioning her own sanity.
During her twelve years in the child welfare system, Jenny has been the one for a series of social workers, in addition to a string of attorneys, foster parents, counselors, therapists, and judges. The past two years of her life have been particularly rocky; Jenny has been in and out of six different foster homes and has landed in the Children's Shelter at least a dozen times. She dropped out of school, went back to school, and dropped out again. Her love life consisted mostly of hanging out with boyfriends who smacked her around. Four months ago, she was picked up by the police at midnight in a park with a known drug dealer. She has had one abortion. And now, although she was not yet showing, Jenny was pregnant again.
"My heart breaks when I think of that girl. Jenny is what I call triple-cursed," one of her former social workers explains. "She has been abused; she has been in the system all her life. And, she is just beautiful."
On this particular day, Jenny was scheduled for another "dispositional" hearing. In layman's terms, this meant that, once again, she had blown out of a foster home and been picked up by the police and taken to the Children's Shelter, where she was now living. Her social worker needed the judge's approval to place her in yet another foster home. For once, Jenny did not have the usual endless wait. A court officer stuck his head in the waiting room door and said that they were ready for her case. Jenny had dressed up for the hearing in the skirt and tailored blouse that her court-appointed special advocate had bought for her on a recent shopping trip. The new clothes made Jenny look taller, more slender, and certainly more mature than she did in her usual baggy jeans and flannel shirt.
---
Buy Somebody Else's Children: The Courts, the Kids, the Struggle to Save America's Troubled Families at Amazon.